Motherboard ASUS PRIME Z270-A la nuova evoluzione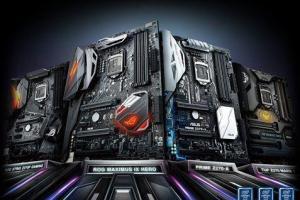 Motherboard ASUS PRIME Z270-A la nuova evoluzione delle schede madri ASUS Overcloking e raffreddamento ottimizzato in un click
ASUS Prime è la nuova evoluzione delle schede madri ASUS, nate nel 1989. Il nostro team di ingegneri è composto da persone appassionate del settore e che cercano sempre nuove e innovative soluzioni tecniche affinchè la scheda madre possa godere delle massime prestazioni, con un occhio di riguardo alla stabilità, compatibilità e semplice messa a punto. Un prodotto quindi accessibile a tutti e che faccia vivere la migliore esperienza di assemblaggio di un PC. È il momento di Prime!
Overcloking e raffreddamento ottimizzato in un click
Ottieni performance, efficienza, potenza digitale, controllo delle ventole, della rete e semplice messa a punto
Motherboard ASUS PRIME Z270-A la nuova evoluzione
Fonte Asus Italia

Un click ed è tutto ottimizzato. ASUS 5-Way Optimization rende il vostro PC intelligente. Ottimizza dinamicamente i parametri essenziali del sistema in base all'utilizzo in tempo reale, in modo da ottenere prestazioni superbe della CPU, risparmio energetico, potenza digitale ultra-stabile, ventole silenziose, ed il controllo totale della rete e della parte audio.
In breve, SUS 5-Way Optimization assicura che il PC sia perfetto per il gioco, l'intrattenimento e la produttività!
I giochi girano fluidi e con alte performance, con audio e priorità della banda.
Le ventole funzionano silenziosamente con i normali applicativi quotidiani ed assicurano la massima efficienza nel gioco.
Gli scatti sono eliminati e tutto gira in modo rapido anche sotto pesante carico.
Dispersioni energetiche ridotte si traducono in un maggior risparmio di denaro.
Overclock della CPU
Fonte Youtube
CPU Intel® Socket 1151 for 7 Generation Core™ i7/Core™ i5/Core™ i3/Pentium®/Celeron® Processors
Supports Intel® 14 nm CPU
Supports Intel® Turbo Boost Technology 2.0
* The Intel® Turbo Boost Technology 2.0 support depends on the CPU types.
* Refer to www.asus.com for CPU support list
Chipset
Intel® Z270
Memorie
4 x DIMM, Max. 64GB, DDR4 3866(O.C.)/3733(O.C.)/3600(O.C.)/3466(O.C.)/3400(O.C.)/3333(O.C.)/3300(O.C.)/3200(O.C.)/3000(O.C.)/2800(O.C.)/2666(O.C.)/2400(O.C.)/2133 MHz Non-ECC, Un-buffered Memory
Dual Channel Memory Architecture
Supports Intel® Extreme Memory Profile (XMP)
* Refer to www.asus.com for the Memory QVL (Qualified Vendors Lists).
* The maximum memory frequency supported varies by processor.
Caratteristiche complete sul sito ufficiale ASUS
[Voti: 0 Media Voto: 0/5]